Me 1/13/2009 I'm standing out on the back deck of the Ridgehaven house. Behind me is the pond that is across the street on the east side.

My sister Patti, her husband Paul and their gorgeous daughter Natalie. (Ok, I am prejudice!)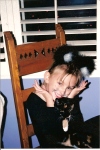 Natalie as a cat and her real cat Lucy. 10/31/2000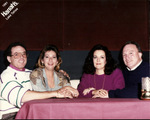 Tahoe 1991 with Terri & Jay.

Pat, Paul & Natalie card dated 12/23/2007 on back.

Jeff and family
Back says: Daniel 8, Lauren next to Danny & Allison - 5 years